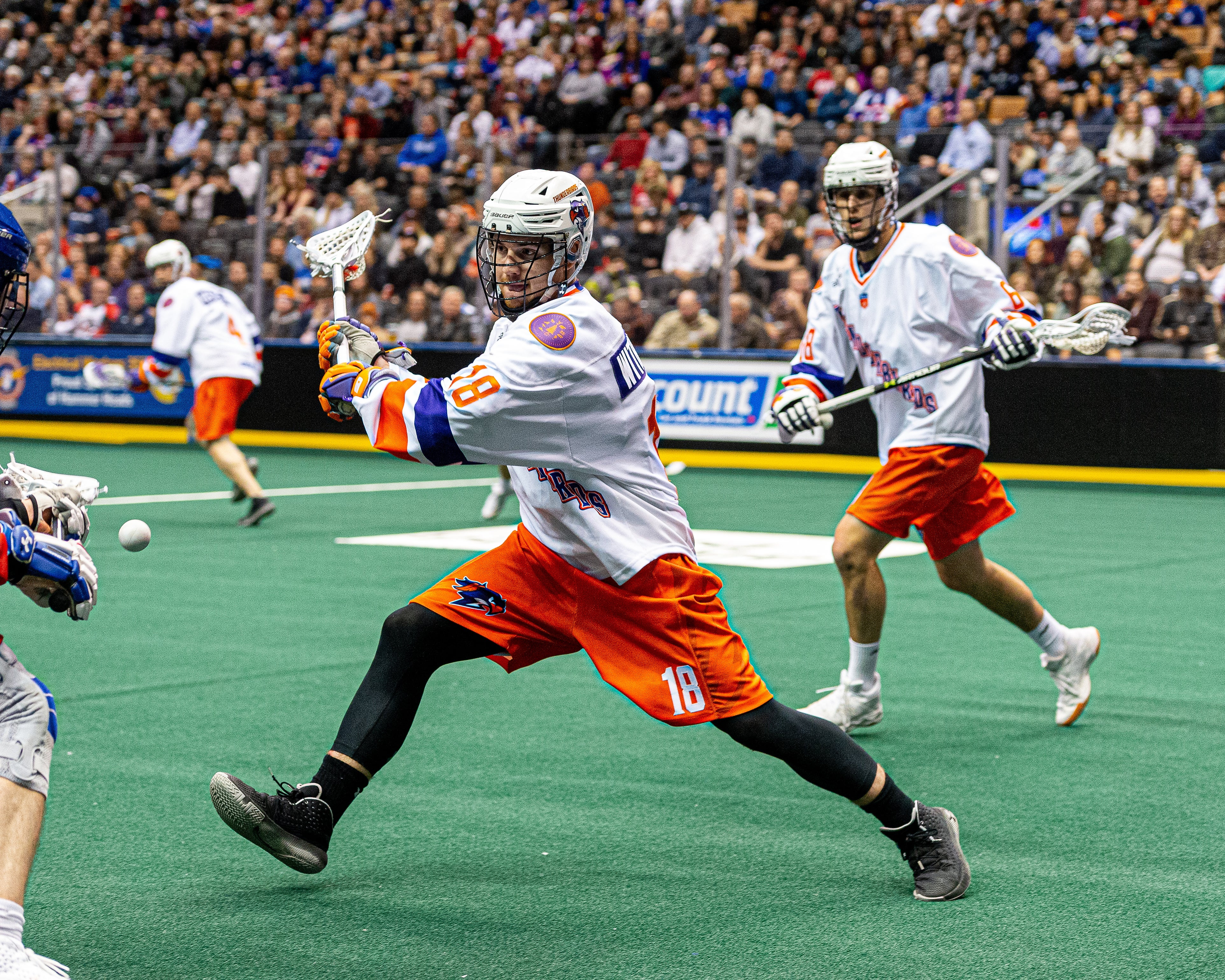 Thunderbirds Fall to Rock
Feb 1, 2020
Toronto, ON (January 31, 2020) - The Halifax Thunderbirds came out short in their first loss of the season to the Toronto Rock, 12-9.
The Thunderbirds had a slow start to the game but managed to put themselves on the board with forward Kyle Jackson scoring the first goal of the game at 5:58. Toronto Rock's Dan Dawson answered seconds later with a goal of his own tying the teams up. Ending the first quarter 3-1, the Rock had tallies from Damon Edwards and Scott Dominey in transition.
Starting the second quarter off strong, Colton Armstrong scored a transition goal at 2:54. Captain Cody Jamieson followed with a goal of his own tying up the teams up at three. Clarke Petterson snagged the lead for the Bird's running coast to coast and buzzing one past Rose on the breakaway. Toronto responded immediately with a goal of their own once again tying the teams up. A few goals from the Rock gave them a 7-4 lead going into the half.
In a heated second half, Bird's Austin Shanks got things going with the first goal of the third quarter. The Rock fought back, sinking four straight goals past Hill, with Dawson securing a hat trick. The quarter closed out with the Thunderbirds trailing by six.
Tensions rising, Petterson started the fourth off with his second goal of the game on the power play. Eric Fannell bounced a ball past the Rock netminder getting the Bird's within four. The Thunderbirds kept fighting to close the gap with Ryan Benesch burying his 445th goal of his career, moving him into 8th place all time in the NLL.
Jamieson plowed and pinballed past two Rock players on the penalty kill to put the Bird's just two behind Toronto. Pulling Hill with two minutes left in the game, the Rock scored on an open net securing the final goal of the game 12-9.
"We need to play a full 60 minutes," said Graeme Hossack. "We can't come out flat and expect to come back in the second half. This loss shows us that we still have a lot to learn."
Jake Withers dominated at the X once again as he went 22-25. Hill had a solid game with 49 shots on goal, allowing 12. The Bird's managed to take 51 shots on Rose as they outshot the Rock.
The Thunderbirds head into the bye week with a 6-1 record, and in first place of the North Division. Catch the Thunderbirds back at home on February 15th at the Scotiabank Centre, facing off against Saskatchewan Rush at 7 p.m local time.
Back to All