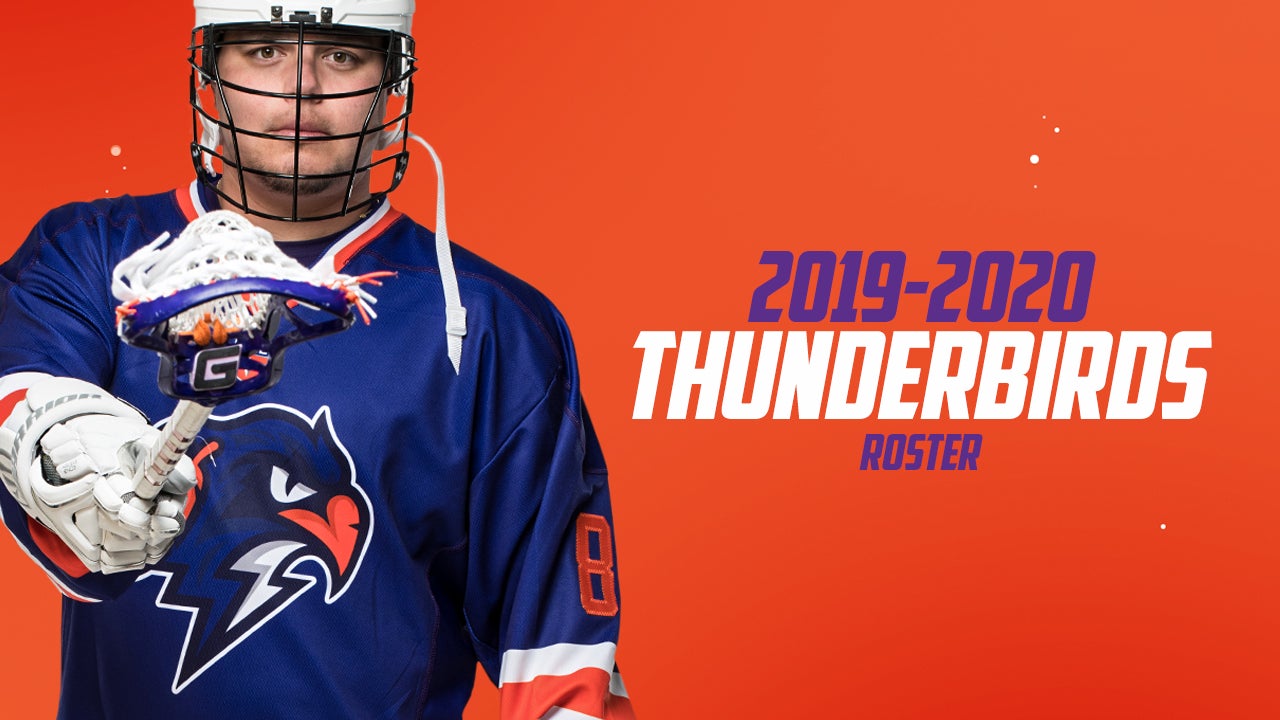 Thunderbirds Announce Inaugural 21-Man Roster
Nov 25, 2019
Halifax, Nova Scotia - The Halifax Thunderbirds announced today the team's 21-man roster and practice squad for the 2019-20 season. The roster is highlighted by veteran leadership and an athletic, young core.
"We had a really tough and competitive camp, ending with an amazing experience at the Scotiabank Centre on Friday night," said Head Coach Mike Accursi. "There were lots of tough decisions, but we feel the mix of guys on our roster will provide us with the best chance to win game in and game out."
The 2019-20 roster will see the return of Thunderbirds veterans Cody Jamieson, Scott Campbell, Ryan Benesch and Graeme Hossack, along with Jake Withers, who continued to dominate at the X last season. Also making the team are Clarke Petterson, Trevor Smyth and Nonkon Thompson, some of Halifax's selections in the 2019 NLL Entry Draft.
The team also assigned Clay Scanlon, Chet Koneczny, Brandon Robinson and Johnny Jimerson to the practice squad and placed Luke Van Schepen on the injured reserve list.
The roster breakdown is below, and a full roster is attached.
2019-20 Halifax Thunderbirds
Active Roster:
Forwards (9): Ryan Benesch, Chris Boushy, Mike Burke, Eric Fannell, Kyle Jackson, Cody Jamieson, Stephen Keogh, Clarke Petterson, Austin Shanks
Transition (2): Colton Armstrong, Brad Gillies
Defensemen (8): James Barclay, Cory Becker, Scott Campbell, Graeme Hossack, Luc Magnan, Nonkon Thompson, Trevor Smyth, Jake Withers
Goaltenders (2): Peter Dubenski, Warren Hill
Practice Roster (4):
Johnny Jimerson, Brandon Robinson, Clay Scanlon, Chet Koneczny
Injured Reserve (1):
Luke Van Schepen
The Halifax Thunderbirds will officially bring professional lacrosse to the city of Halifax during the Home Opener on Saturday, December 7 at Scotiabank Centre. To purchase season tickets visit HalifaxThunderbirds.com, for individual game tickets visit ticketatlantic.com or your nearest Ticket Atlantic location. To reach the Halifax Thunderbirds Lacrosse team call or text 902 334 2333.
Back to All