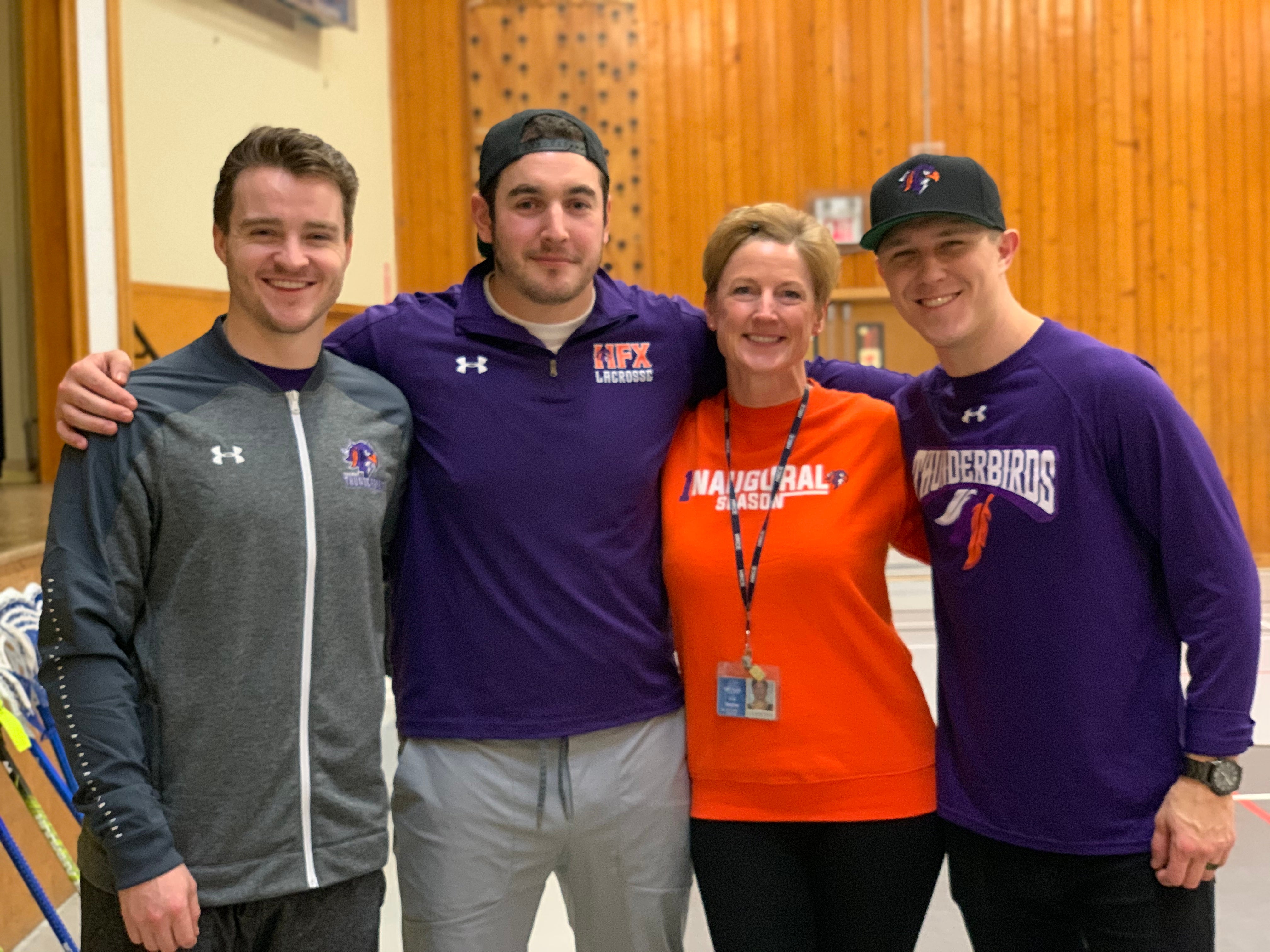 Thunderbird Proud
Jan 10, 2020
Dartmouth, Nova Scotia - The Halifax Thunderbirds spent Friday afternoon at Caledonia Junior High School in Dartmouth. Luc Magnan, Austin Shanks and Kyle Jackson were out to teach the game of lacrosse. While they were teaching the fundamentals to the students, there was someone at the school who is very familiar with the new franchise. The Principal of the school, Lisa Vaughan, is a Thunderbirds Season Ticket Member and a huge Thunderbirds fan.
As she sat in the gym watching her two worlds collide, she couldn't help but to take it all in. Many students at Caledonia play lacrosse and she loved watching them interact and learn the sport they are so passionate about with these players that they look up to.
Lisa loves to sport her purple and orange, even when the team isn't at their own barn. She came to cheer on the team when they traveled to their first road game of the season in Buffalo. She cheered loud and she cheered proud as the Buffalo fans booed her and her family as the Thunderbirds took home a victorious 15-10 win.
One of her favourite things about being a Season Ticket Member is the family aspect the team gives off. Even with the three players visiting her school today, she felt like she was right at home.
"I had a real feeling of "family" spending time with you and the guys and hearing your stories," said Vaughan. "And coming from a small farming town, that feeling is priceless."
Lisa and her husband are ready to cheer on the Thunderbirds as they take on the Colorado Mammoth at the Scotiabank Centre in front of the best fans in the National Lacrosse League.
Back to All