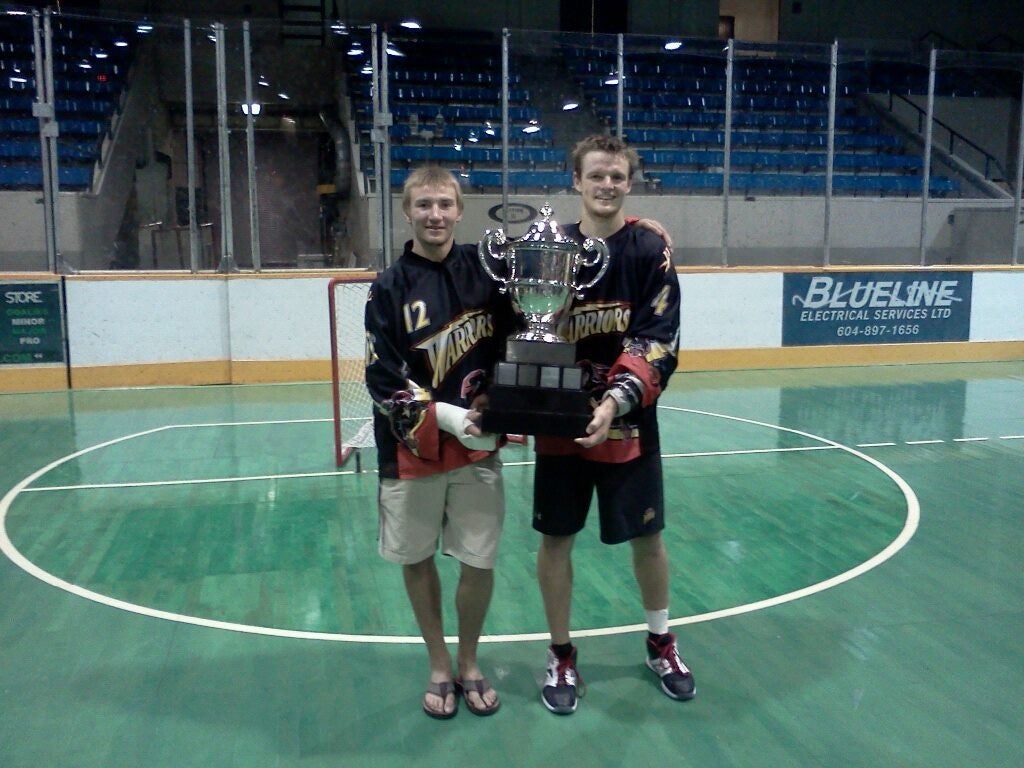 The Hossack Family Reunion 
Feb 13, 2020
The Hossack brothers of Port Perry, Ontario take the floor in this Saturday's highly anticipated game, but for sixty minutes they battle along brothers of a different kind. Graeme Hossack, 27, has solidified himself as one of the cornerstone defencemen in the National Lacrosse League, coming off of back to back NLL Defensive Player of the Year Awards. Matt Hossack, 25, has settled in to his own as a defenceman for the Rush, in his third season as a pro.
Graeme began playing lacrosse at just five years old, and was accompanied by younger brother Matt. Always full of energy, lacrosse kept the Hossack boys going and instantly had a major impact on their lives.
In 2012, Graeme left home for Missouri, where he would go on to play four years at Lindenwood University (NCAA II), before being drafted with the Second Overall pick in the 2015 NLL Draft.
As fate would have it, the Hossack brothers were again brought together by the sport of lacrosse, this time in the City of Rochester. Matt, a Mechanical Engineering major at Rochester Institute of Technology, would take the 10 minute drive from campus to watch his older brother play on weekends at the Blue Cross Arena.
In true brotherly form, the Hossack brothers thrived off their competitive nature. From canoe races in Port Perry, to chin up competitions while bailing hay, the Hossack boys always managed to keep their competitive edge sharp.
"We are both very competitive people, so when we would play against each other growing up it always ended up being physical," said Graeme Hossack. "This competitive environment allowed us to push each other and has played a large role in making us the players we are today. Playing against each other always brings out our best because neither of us wants to lose."
For Matt, it was no different. "Games against my brother always seem to have a little more energy associated with them because of the competitive nature of our relationship. He's someone I know very well and it takes a bit of effort to try not to start any friendly banter when we cross paths on the floor. Having played together so much growing up, we grew to know each other's habits well. Therefore playing against him, seeing how effective he is on defense, isn't a surprise to me."
Of course it wasn't all competition, the Hossack brothers also valued teamwork. Growing up on their family farm, hard work was not only a way of life, but was engrained in them from a young age. In 2011, Graeme helped his Whitby Warriors capture a Minto Cup, and again in 2013, the brothers saw their hard work pay off, this time at each other's side.
For parents Brad and Jocelyn, games like these come with the hardest decision a parent has to make; who to cheer for.
"I know my dad likes to wear the jersey of the home team and wear the hat of whoever is the away team at the time," points out Matt.
Be sure to catch the 'Battle of the Hossack Brothers' tomorrow night as the Thunderbirds host the Saskatchewan Rush for DND Appreciation Night. Call or text (902) 334-2333, or visit the Ticket Atlantic Box Office for tickets.
Back to All