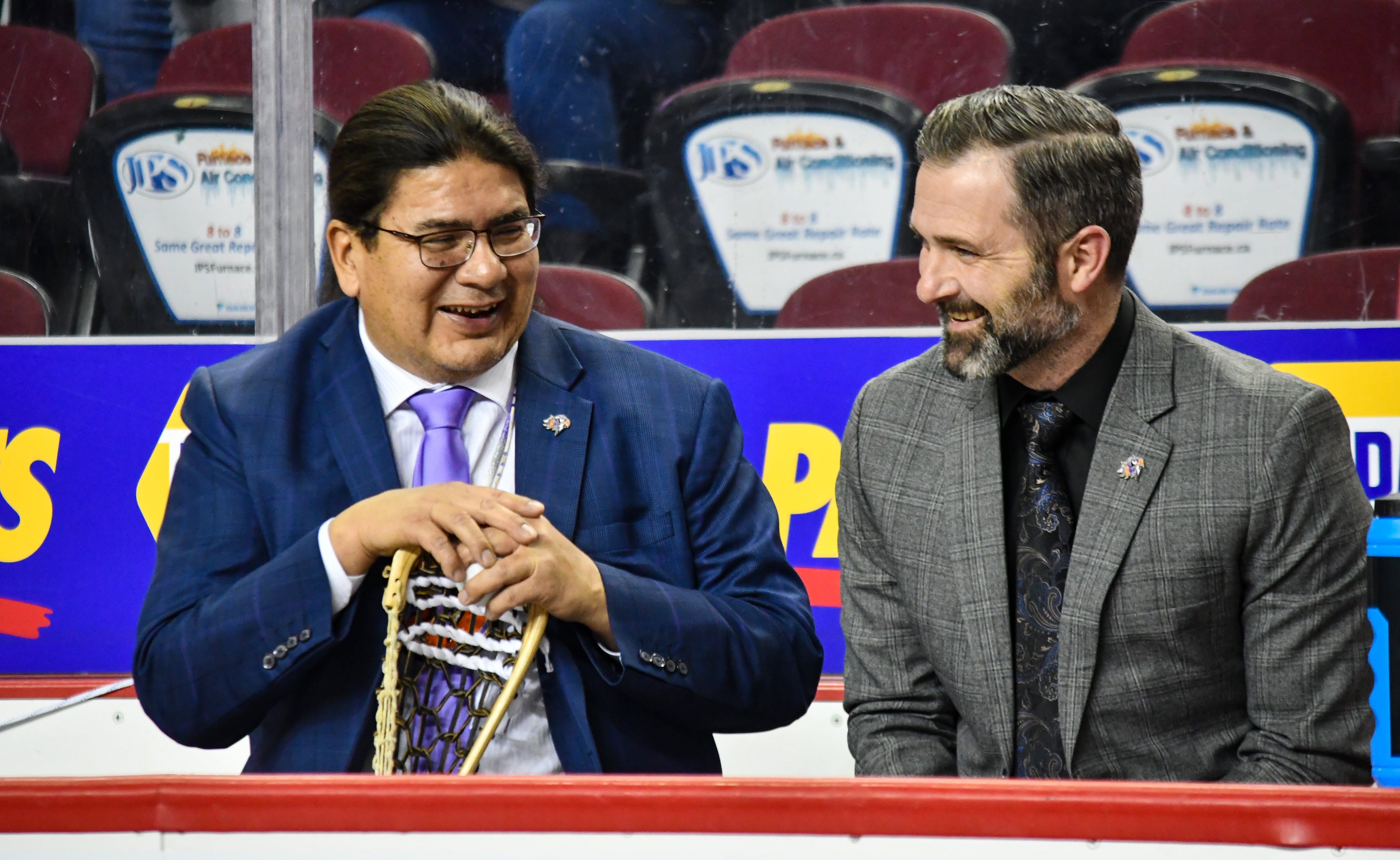 IL Indoor's 2020 Coach and GM of the Year Award
May 19, 2020
The National Lacrosse League season wasn't a full one in terms of 18 games in the regular season, but the season we did get to enjoy was full of great lacrosse.
And while we're still not sure if the NLL will be able to field some type of playoffs as the season remains on hold due to the coronavirus pandemic, at IL Indoor they decided to move forward with their awards season which has so far seen two familar faces to the Thunderbirds family.
Curt Styres: IL Indoor GM of the Year
IL Indoor kicks off their awards with the General Manager of the Year and this year, much like the scores of his teams this season, it wasn't that close. The work of Curt Styres for his new team in Halifax, Nova Scotia, earned him four of the available six votes for first place. Eight wins for the Thunderbirds came with a 6-0 start to the season and a 6-1 record at home.
The voting gave Styres 24 points, 5 points ahead of Philadelphia's Paul Day and New England's Rich Lisk/Glenn Clark, who tied for second.
Check out the voting table below along with selected comments by the voters.
Voting
The nine awards are voted on by our panel of six staff writers, each of whom votes for up to five candidates in each category. Points are awarded on a 5-4-3-2-1 basis.
The voters are co-editors Bob Chavez and Stephen Stamp along with writers Brian Shanahan, Marty O'Neill, Pat Gregoire and Graeme Perrow.
| | | | | | | |
| --- | --- | --- | --- | --- | --- | --- |
| General manager | First | Second | Third | Fourth | Fifth | Points |
| Curt Styres | IIII | | I | | I | 24 |
| Paul Day | I | II | I | I | I | 19 |
| Rich Lisk/Glenn Clark | I | II | II | | | 19 |
| Jamie Dawick | | I | | II | I | 9 |
| Derek Keenan | | I | | I | I | 7 |
| Steve Dietrich | | | I | I | I | 6 |
| Pat Coyle | | | I | I | | 5 |
| Patrick Merrill | | | | | I | 1 |

Comments
Stephen Stamp
Rich Lisk, Derek Keenan, Paul Day, Jamie Dawick, Curt Styres
The big challenge for a GM is to find the balance between stability and adaptability. Successful franchises prove time and again that continuity is critical, but you can't afford to get stagnant. Rich Lisk did a great job heading into the 2020 season of finding the balance. He made keeping Callum Crawford around long-term even though he's heading into the back half of his 30s a priority and Crawford seems to just keep getting better, both individually and at making players around him better. Greg Downing was the most underrated free agent signing heading into the 2019 season and continues to be one of the best defenders in the league. Tony Malcom and Mack Mitchell are both blossoming into solid core defenders after arriving in trade for minimal assets. Joe Nardella is a faceoff guy who can play defence. And continuing to trust in the development of Doug Jamieson is the cherry on top of Lisk's show of patience that helped the Black Wolves' roster hit its stride to the tune of sitting first overall when the season was suspended.
Derek Keenan has managed the balance as well; for Saskatchewan this year it meant needing to bring in more new players while also welcoming back Jeff Cornwall and DOTY contender Ryan Dilks. Paul Day oversaw a huge turnaround in Philly with Zach Higgins serving as the catalyst after coming over from a backup role in Buffalo.
Dan Dawson was a terrific addition in Toronto, but Jamie Dawick's patience with late-round 2018 pick Scott Dominey may have contributed about as much to the Rock's success this year. Curt Styres tends to make unconventional moves but they often pay off. This year, his choice of Mike Accursi as head coach was probably the most important element to Halifax hitting the ground running in its new home.
Bob Chavez
Strong cases can be made for my top three votes in Paul Day, Rich Lisk and Curt Styres. I absolutely love how Day learned from his first season in Philly and revamped the roster to make the defense stronger. And in New England, Lisk made a few tweaks to the defense and transition game to make the Black Wolves a lot more consistent than they had been in seasons prior. But what can you say about Styres? We saw the magic touch he had in building a team in Rochester that won three straight titles, then we watched in disbelief when he dismantled the team. The late-season success for the Knighthawks in their final season in Rochester gave us a glimpse of what was to come in Halifax and it did not disappoint.
Graeme Perrow
When Curt Styres brought his team to Halifax, many were unsure whether the NLL would succeed there. But Styres's confidence paid off, and attendance at Thunderbirds games continued to grow all year. While moving his franchise to a new city, he also found time to make his team better, reacquiring veterans Scott Campbell and Stephen Keogh (though the latter was during last season) and signing goalie Pete Dubenski after his outstanding WLA season. Of his six draft picks from last year, four of them saw serious floor time and made significant contributions. Styres also took a chance on rookie head coach Mike Accursi, which turned out to be another successful move.
Marty O'Neill
1) Styres - Halifax jumped into first place and held the position throughout the season. They have done this on the cheap through trades, the draft, and a collection of free-agent players that are young and improving. Credit has to go to the vision that built this team that will be in the thick of it for years to come.
2) Clark - Clark has shown confidence and patience with his goaltender while coming up with a faceoff man that is already second-best in the league. Bold moves are a hallmark of the Clark regime that has the Black Wolves competing for a championship.
3) Coyle - The Mammoth is a team that is always in the mix but just doesn't quite have enough depth to punch it through the goalposts. Overcoming previous management spending will elevate this team in the future years. Coyle's ability to thrive even with his low-budget team is a testament to his vision.
4) Dawick - Toronto has found some pretty good players in late-round picks and in the free-agent pile. Dawick must be given credit for building a deep enough team to endure the injuries they have amounted over the past two seasons. Signing Dan Dawson was a feather in Jamie's cap.
5) Day - The Philadelphia Wings came together nicely in 2020. Trading for goaltender Higgins and giving Matt Rambo playing time supplied the Wings with a lot more swagger. I get the feeling that this group of players is on the verge of something more in the near future.
Mike Accursi: IL Indoor Head Coach of the Year
The Halifax Thunderbirds got off to a great start in their new nome, winning their first six games and finish atop the North Division after tying New England for the most wins by any team this season with eight. Now they're off to a hot start in IL Indoor's 2020 awards, with Mike Accursi being named Coach of the Year a day after Curt Styres was announced as GM of the Year.
Accursi has been getting plenty of attention lately for the Tik Tok dances that he and his daughters have graced the internet with, but he was already garnering attention from lacrosse folks for the excellent job he did in his first year as an NLL head coach.
Accursi transitioned smoothly from his assistant's role in Rochester, putting together a coaching staff that includes Chad Culp on O and Billy Dee Smith on D along with Roger Chrysler and Jason Johnson.
The Thunderbirds may have gotten a bit of a break from the schedule makers, opening with back-to-back home games against this year's expansion teams. They showed they were for real, though, by continuing the winning for another four games including contests against both of 2019's NLL Cup finalists.
The Voting
The nine awards are voted on by our panel of six staff writers, each of whom votes for up to five candidates in each category. Points are awarded on a 5-4-3-2-1 basis. The voters are co-editors Bob Chavez and Stephen Stamp along with writers Brian Shanahan, Marty O'Neill, Pat Gregoire and Graeme Perrow.
| | | | | | | |
| --- | --- | --- | --- | --- | --- | --- |
| Coach | First | Second | Third | Fourth | Fifth | Points |
| Mike Accursi | IIIII | I | | | | 29 |
| Glenn Clark | I | II | II | I | | 21 |
| Paul Day | | I | I | I | II | 11 |
| Derek Keenan | | | I | III | | 9 |
| Matt Sawyer | | II | I | | I | 12 |
| Pat Coyle | | | I | I | I | 6 |
| John Tavares | | | | | I | 1 |
| Curt Malawsky | | | | | I | 1 |

Mike Accursi was a rookie head coach who inherited a 6-12 team to play their first season in a new city, where nobody was really sure how well lacrosse would be received. Not exactly a recipe for success, but he made it work. While the Thunderbirds' success off the floor wasn't Accursi's doing, he was certainly instrumental to their success on the floor. They led the North division but it wasn't so much how often they won but how they played: they won both close game and blowouts, staged the biggest comeback in NLL history (even though they lost the game), and worked hard from beginning to end every game. The players seemed to have bought into his system and had fun doing it, and that made Halifax an exciting team to watch. And if all that weren't enough, he's an above-average dancer, too. - Graeme Perrow
Marty O'Neill
1) Accursi - Accursi enjoyed success in 2020 by combining some seasoned veterans with a litter of the younger players he coached up. Most impressive was their scope to come from behind and rally from tight spots.
2) Sawyer - Toronto's penchant to win big games minus even bigger players has become a theme over the last two years. Credit has to go to the Rock coaching staff that finds a way to win in the ultra-competitive East division.
3) Coyle - Just like Toronto, Colorado's Pat Coyle elevates his team consistently to do things it says they shouldn't be able to do on paper. This team has overachieved for a couple of years and will only get better.
4) Clark - Clark has changed the makeup of his team several times over the course of a few years. Every time they move key players they get better. I love Glenn's ability to not play it safe and trust his decisions. It remains to be seen if this team can conquer the playoffs.
5) Tavares - Truth be told, last year's co-Coach of the Year has done a heck of a job this year doing what he does best - trying to get his decimated offense to gel and keep this team in the first place position. Free agency hurt Buffalo more than others but they found ways to stay relevant.
You could make the argument that Accursi had a loaded lineup to work with, and he did. And maybe the strength of schedule wasn't all that difficult for the Thunderbirds. But Accursi took what he was given and made winning happen. In other words, he didn't blow it. He helped generate a ton of excitement in a new market that drew well and while we may never know if the Thunderbirds were heading toward an NLL title in their first year, they were in the conversation. - Bob Chavez
Stephen Stamp
Glenn Clark, Mike Accursi, Derek Keenan, Pat Coyle, Paul Day
New England roared out of the gates with four straight wins, including beating Toronto and Saskatchewan. Then they lost three in a row, including falling to Vancouver. Rebounding with another four-game winning streak that included a solid win over Halifax left them atop the standings. Coaches often talk about the importance of not getting too high when things are going well or too low when they're not. The Black Wolves recovering from their swoon to get hot again shows that Glenn Clark managed that feat to a T this season.
Mike Accursi took over as a first-time head coach for a team that had a good end to 2019 but still missed the playoffs, moved to a new city and had a roster with clear talent but plenty of question marks about how ready it was to compete for a championship. All he did was lead the Thunderbirds to 8 wins as they won over the new home town fan base. If Tik Tok dances were factored into the voting, he would have to be the clear winner.
Coach of the year credit often goes to the person whose team improves the most. Sustained excellence tends to get overlooked. Call it Bill Belichick syndrome. Derek Keenan should always be considered for this award. This year, he took a team that looked like its championship window may be narrowing, integrated some new components, and got it clicking more and more as the season went on.
Pat Coyle coaches to his team's strengths and does a good job of getting the most out of his club. Whether Paul Day should get more credit for the job he's done as a GM or coach is a good question, but he definitely deserves credit for both as the Wings have climbed from the cellar to respectability and game in, game out competitiveness.
Back to All