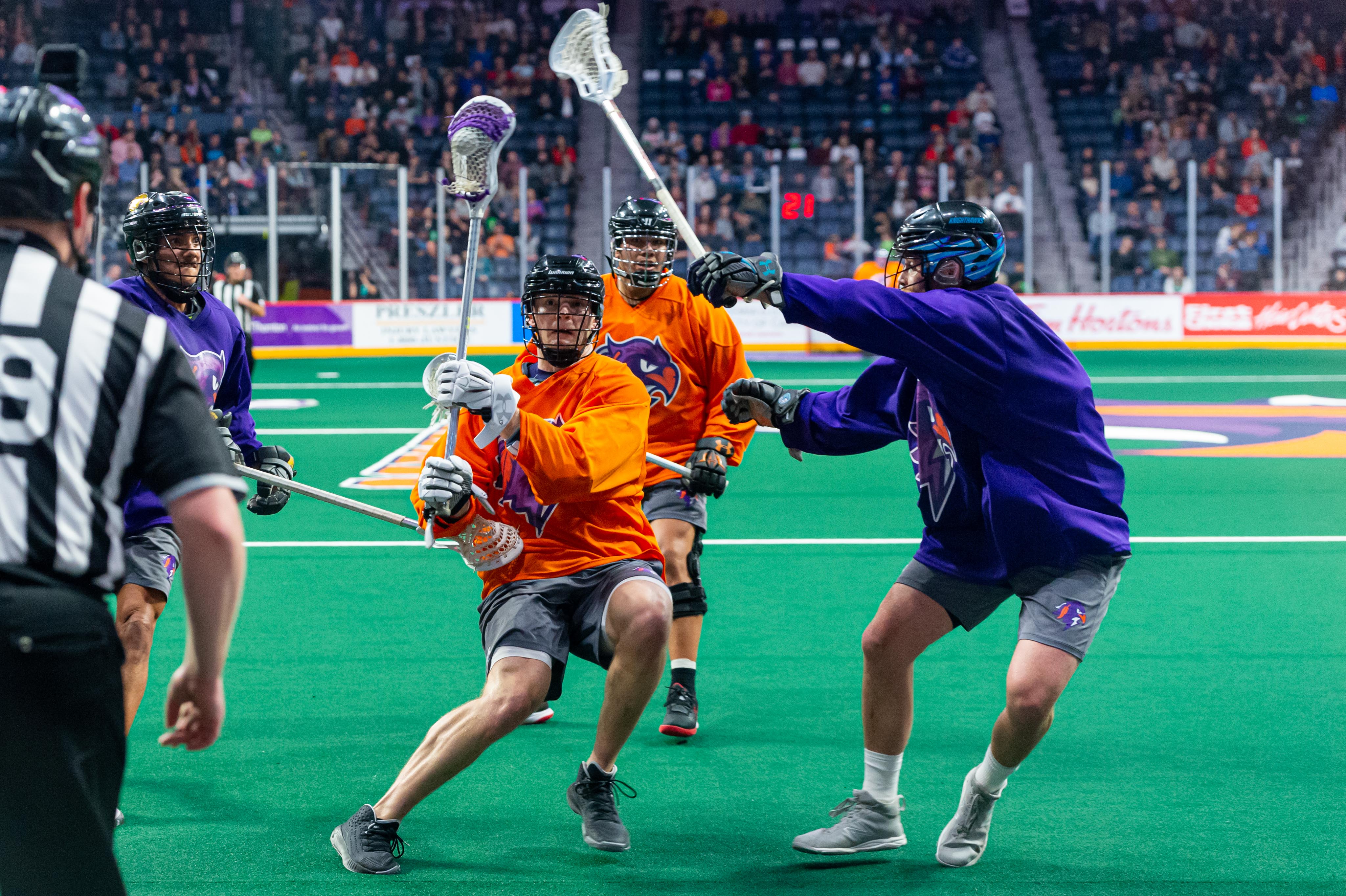 IL Indoor Top 50: Graeme Hossack, No. 4
Dec 2, 2019
As a new National Lacrosse League season approaches, IL Indoor is back with the 11th edition of its Top 50 list where we count down the Top 50 players in the game today. It's a process that started in 2009 with a single writer and has evolved into an activity today that includes 4 writers and a lot of math.
On the voting panel for the 2019 list are co-editors Stephen Stamp and Bob Chavez along with IL Indoor contributors Marty O'Neill and Graeme Perrow. Each voter submitted a list of his Top 50 players with players earning points for the votes. A first-place vote is worth 50 points, second place is worth 49 and onward, to a player being ranked at No. 50 getting 1 point.
The totals were tabulated to determine the Top 50 and ties were left as such. Each profile includes that player's National Lacrosse League statistics along with comments from the voting panel on why that player is in the Top 50 for 2019.
4 Graeme Hossack (187 points)
| | | | | | | |
| --- | --- | --- | --- | --- | --- | --- |
| | Games | Goals | Assists | Points | LB | CT |
| NLL | 18 | 8 | 16 | 24 | 164 | 25 |
Comments
Stephen Stamp
Hossack is Rubisch 2.0 with scoring touch. Hossack brings the same kind of physical dominance that has been Rubisch's stock in trade. While Rubisch has scored 17 goals in his nine-year career, Hossack has scored 15 in the last two seasons as the latter has increasingly stepped up in the transition game. If you are looking for the best pure defensive player in the game, Rubisch may still be your pick. But if you are looking for a pure stud in the defensive zone who brings an all-floor element to his game, Hossack has an edge. Watching the pair play together for Canada at the WILC this September was to see the art of defence at its finest. The diversity to his game is what makes Hossack the top-rated defender on this list.
Marty O'Neill
If I were allowed to pick any NLL player to start a team with, I would select Graeme Hossack. Pure dominance is what he exudes consistently to anchor defenses wherever he plays. This past summer, Hossack logged a scary amount of minutes in his WLA postseason. Possibly the best take away checker of recent history, Hossack has developed a forward's scoring touch up the floor to balance his game and make him a full-time threat. The intangible of leadership "by example" is how Graeme's reputation has spread around the lacrosse world. No one will be outworking this guy. Combine his athleticism and skill with the rest and you have your reigning defensive player of the year.
Graeme Perrow
Graeme Hossack has been one of the top defenders in the league since his debut in 2016, and he's picked up a few points along the way. But in 2019, he increased his goal total and more than doubled his assist total from the previous season, all while winning his second straight Defensive Player of the Year award. If the trend continues, Hossack may be looking at a Transition Player of the Year nomination. But even if he scores no points at all, his value as a defender cannot be overstated.
Bob Chavez
I remember when Kyle Rubisch was on the rise to become the dominant force that he is and I wondered if we'd ever see another defender rise to that level. It didn't take long to get that answer because here we are with Hossack. Like Rubisch, he's just downright nasty on defense with an aggressive and correct style that gets the job done. Hossack has a bit more offense to his game than Rubisch does, but defense remains the bedrock of his game and there are few, if any, who are better at it.
Back to All