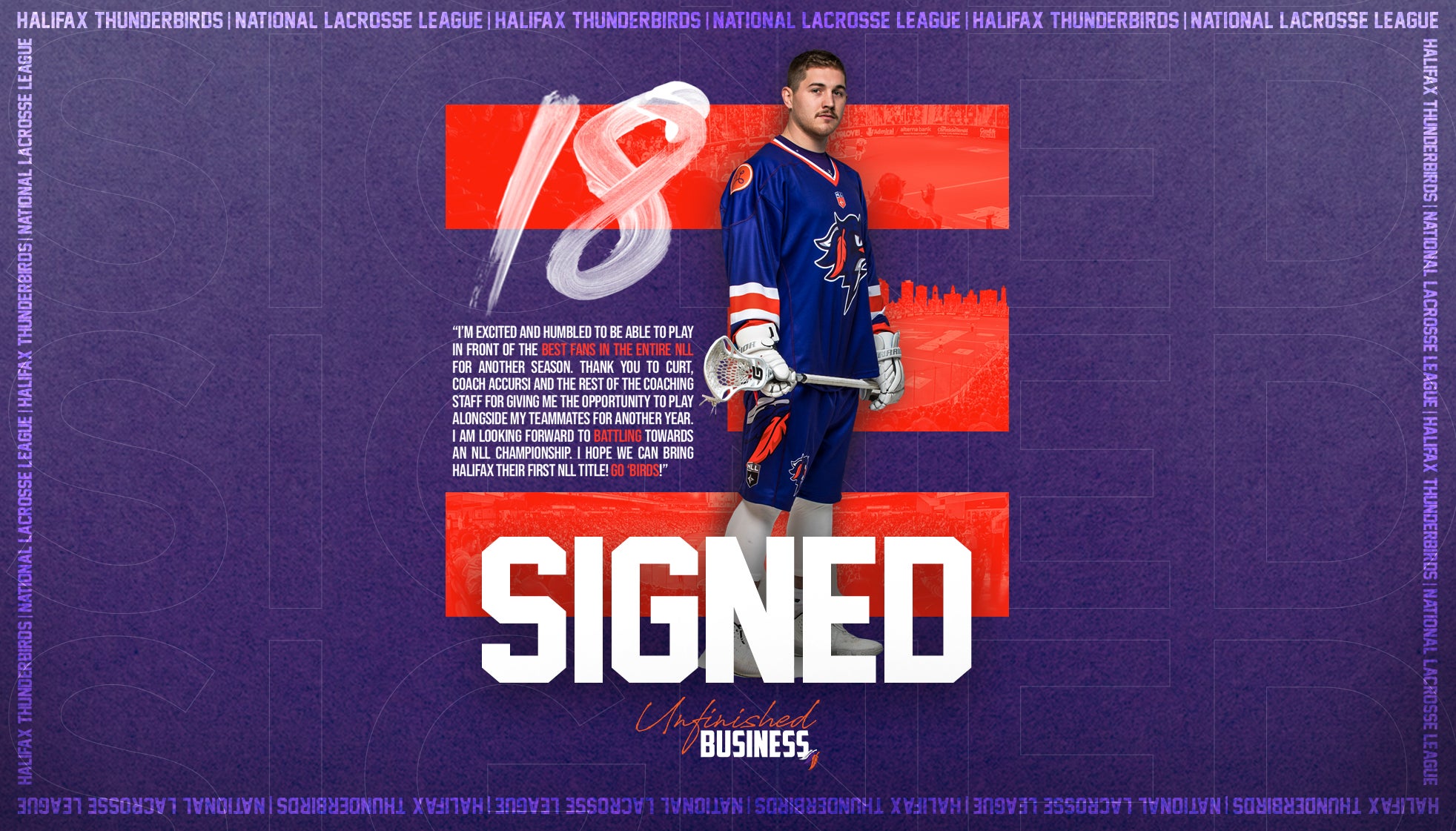 Face Off WIZard Re-Signed  
Jul 23, 2020
(July 24, 2020) Halifax, NS – The Thunderbirds announced today that they have signed Jake Withers to a one-year deal.
"I'm excited and humbled to be able to play in front of the best fans in the entire NLL for another season," said Withers. "Thank you to Curt, Coach Accursi and the rest of the coaching staff for giving me the opportunity to play alongside my teammates for another year. I am looking forward to battling towards an NLL Championship. I hope we can bring Halifax their first Champions Cup! Go 'Birds!"
In his young career, Withers has not only found success at the X, but absolutely dominated his opponents with a career win percentage of .727%. In 1,094 attempts, Withers has won 796 face-offs and collected 461 loose balls. He also scored the first goal in Thunderbirds history this past December.
In the shortened 2019-20 season, his stats were on pace to obliterate his previous two seasons worth of work, falling just 37 wins shy of his career high in 2018 (279), and 19 loose balls short of his 2018-19 total.
"Jake entered the NLL as a premiere face-off man," said Owner and General Manager Curt Styres. "Jake developed into an elite defensive player. Jake is a leader and who will put Thunderbirds as contender for an NLL championship."
In 2018-19, the Peterborough, Ontario native, led the NLL in faceoff winning percentage (.749), second in wins (275) and fourth in the league in loose balls (166). In his rookie campaign in 2017-18, he was named the NLL Rookie of the Year and an NLL All-Rookie Team selection. Withers also set the team playoff records with 56 loose balls and 88 faceoff wins. His 279 faceoff wins that year were an NLL rookie faceoff record and a team single-season mark. In 2017-18, he led the NLL in faceoff wins and faceoff winning percentage (.670) to become the first rookie in league history to have the best faceoff percentage (minimum of 200 faceoffs won) since Geoff Snider in 2007.
Before making his splash in the National Lacrosse League, Withers played his collegiate lacrosse at Ohio State University where he served as a team captain in 2017. He was named a 2017 Second Team All-American as a faceoff specialist and was a four-time Ohio State Scholar-Athlete and a 2017 USILA Scholar All-American. To add to his accolades, he was named Big Ten Specialist of the Year in back-to-back seasons (2016-17) and became only the second Buckeye in program history to pick up 200 ground balls.
Back to All